Acrison, Inc., an innovative leader in dry and liquid polymer feeding and blending technologies for over 40 years, has announced the availability of its new Model 580 Liquid Polymer Blending System, suitable for operation in hazardous areas rated for Class 1, Division 2, Groups C&D.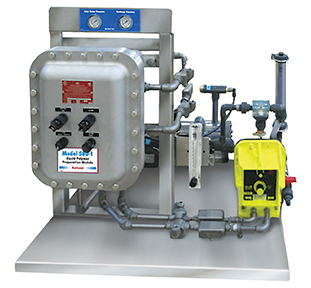 The system utilizes Acrison's patented, highly efficient Dispersion-Injector and uniquely designed motorized activation chamber to blend liquid polymer with water in an extremely effective manner. All components of this particular Model 580, including the diaphragm metering pump, activation chamber motor, water valve, pressure switch, etc., are all rated for Class 1, Division 2, Groups C&D hazardous area environments. In addition, the control panel, including all conduit and wiring, also meets the above classification.
All components of the system are skid mounted, piped, and completely wired at the factory prior to shipment, resulting in a system easy to install and operate. Also, all Model 580 Liquid Polymer Blending Systems are fully factory tested prior to delivery.
For more information, call 201-440-8300; Fax: 201-440-4939, E-mail: informail@acrison.com.