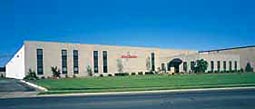 Leadership Through Innovation
For over 50 years, Acrison has maintained a leadership position in the application of unique and innovative technologies for dry solids metering and handling. Acrison's user-driven approach to product development and equipment design is the guiding principle to its ongoing success and the reason that Acrison is a leading global supplier of high performance volumetric and gravimetric feeders, continuous blenders, bin discharging mechanisms, water treatment packages and related control systems to processing industries of every description.
Excellence Through Design & Engineering
Acrison's award-winning designs for dry solids metering/handling equipment are recognized worldwide as the most viable, versatile and durable in the industry.
From a wide-range of dry solids multiple auger metering and hoppering mechanisms, to ultra high resolution, calibration and adjustment-free, non-load cell weighing systems, Acrison holds hundreds of worldwide patents covering the majority of its mechanical and electrical designs. The company designs and manufactures equipment that delivers maximum flexibility, optimum levels of performance, and the lowest cost-of-ownership possible. Acrison systems and feeders installed over 35 years ago are still in daily use continuously metering an endless variety of products in thousands of installations across the globe.
Manufacturing its products for unrivaled longevity and dependability from the beginning has enabled Acrison equipment to achieve and sustain the lowest parts failure rates in the industry ensuring optimum reliability and maximum security for your process.
Acrison stands alone in the industry as a developer, designer and manufacturer of controls and control systems, ranging from basic variable speed volumetric controllers to advanced microprocessor weigh feeder controllers including Acrison's new generation SBC-2000 Family of Controllers. This range of high performance controllers offers users the latest technologies and includes numerous advanced features and functions at far lower cost than in the past. The SBC-2000 Family of Controllers have been designed with an emphasis on performance, reliability, compact size and ease-of-use.
Acrison also offers a wide variety of interfacing, networking and communications options including Network Gateway used with Profibus DP and DeviceNet networks, Ethernet Gateway and Bluetooth Gateway, all capable of communicating and interfacing with up to 32 individual Acrison Weigh Feeder Controllers. Acrison also offers users the Acri-Data Supervisory Software package, a Microsoft® Windows TM based program that allows a PC or laptop to communicate with up to 20 SBC-2000 Family Controllers.
Markets Served
Acrison's primary markets include the food, chemical and plastics processing industries. However, Acrison equipment is applied in virtually all settings where the accurate metering of dry solids ingredients is required, including the mining, pulp, paper and paperboard, solid propellants, ceramics, building products and pharmaceutical markets, to name just a few. In addition, Acrison expands and applies its industrial product line to meet the needs of the various water and waste water treatment industries, employing field-proven industrially designed equipment for water treatment processes from basic chemical feeding and dissolving systems to dry and liquid polyelectrolyte metering and wetting systems.
Technical Services
Acrison strongly encourages a prospective user of dry solids metering equipment to visually and physically compare the available devices in order to select the optimal equipment to satisfy the metering requirements of the most demanding processes. We welcome witnessed testing at our facilities as we are confident that personal observation of an equipment operational demonstration will prove to be invaluable in the customer's decision-making process.
Acrison's state-of-the-art customer demonstration facilities are the largest, most advanced and best equipped in the industry. They are always available to demonstrate the operation of the appropriate equipment handling the user's actual material. In most instances feeder evaluations are conducted at the specified production feed rates for the application, and normally testing is conducted without any charge to the customer. Test procedures are generally completely automated with the capability to sample at intervals as brief as 0.1 seconds in duration.
In addition to equipment demonstration and materials testing, Acrison also offers comprehensive end-user field and factory-based training programs, focusing on equipment operation/maintenance, as well as customized seminars dealing with the specific application of Acrison products.
Customer Support
Offering the most complete range of customer service and support functions available in the industry, Acrison's first priority is to meet the diverse needs of an ever expanding global user base. With increased manufacturing capabilities, world class equipment demonstration, training and seminar facilities, and an excellent global sales and service network, Acrison is well positioned to meet the ever increasing requirements of its customers.