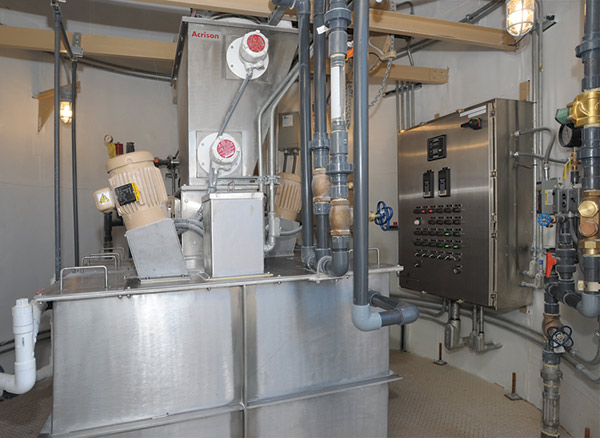 Acrison's fully integrated silo storage and feeding systems are a product of over 50 years of in-depth expertise and experience in dry solids handling and feeding. Using advanced technology, and superior components, each silo is specifically configured to meet each customer's individual application requirements.
Features/Benefits
Skirted silos ship as a single unit, with all internal components fully installed, piped, and wired, and properly braced for damage-free shipping. This is advantageous in that it greatly reduces the onsite work required by the contractor compared to a silo shipped in more than one section.
Rugged, heavy-duty, and reliable Acrison feeders are perfect for use under bulk storage silos.
Chemical agitation is provided by vibratory bin activators on an as-needed basis, eliminating the potential for pressurization and/or fluidization typically cause by air injection methods.
Custom PLC-based controls, designed and manufactured in-house.
50+ years of dry chemical feeding experience with dependable service and support.
Specifications
Standard Construction
Carbon steel construction, primed and painted per the customer's paint specification.
Roof mounted dust collector.
Vibratory Bin Activator(s)
Acrison Feeder(s) – Model W105Z or Model BDF-1.5
Pneumatic fill piping with long radius elbow and center-fill target box.
Truck-fill connection includes a limit switch and dust-cap.
Manway with pressure relief valve mounted on silo roof.
Caged safety ladders with evenly spaced platforms when necessary.
Non-Slip Roof Deck Surface
NEMA 4X Truck-Fill Panel
Options
A Variety of Silo Diameters
Skirted or Leg-Supported Silos
Single or Dual Discharge
Volumetric or Weight-Loss Feeders
Dissolving Tanks or Wetting Cones
Pulse-Jet, Reverse Air Clean, or Mechanical Shaker Dust Collectors
Insulation of Silo Skirt Section
Point-Level and/or Continuous Level Sensing
Hazardous Area Rated Equipment Sections
And Many More….