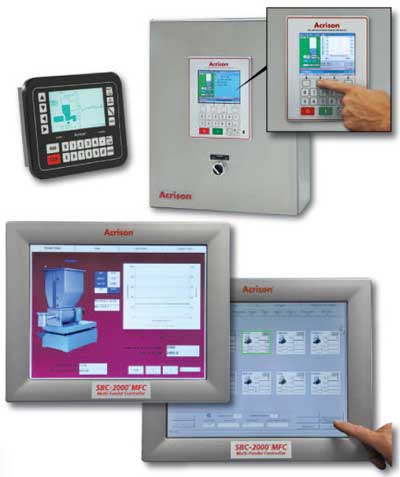 SBC-2000 Family of Weigh Feeder Controllers… for Acrison Weight-Loss Weigh Feeders
Overview
Acrison's state-of-the-art SBC-2000 Family of Weigh Feeder Controllers has been designed with an emphasis on performance, small size, reliability and ease of use. In operation, they provide robust, highly accurate control of Acrison's dry solids and liquid 'Weight-Loss' Weigh Feeders, as well as all other Acrison Weigh Feeder models. SBC-2000 Controllers include virtually all of the features and functions previously available in earlier Acrison controllers, while adding an assortment of new features as well.
Available in three distinct models, SBC-2000 Controllers have identical weigh feeder control capabilities:
SBC-2000 CM – controls a single Acrison Weigh Feeder in conjunction with a separate variable speed motor controller. It is designed primarily for applications that use a central computer, PLC or DCS for monitoring and control that does not require a local operator interface. (An optional local keyboard display unit is available.)
SBC-2000 DSP and SBC-2000 DSP/C – For applications that require a local operator interface, the Model SBC-2000 DSP integrates a Model SBC-2000 CM Controller with a monochrome LCD graphics display and a Lexan membrane keypad. The Model SBC-2000 DSP/C Controller includes a metallic console designed with a TFT color graphics display and piezo electric keypad.
SBC-2000 MFC – consists of one or more (20 maximum) SBC-2000 CM or DSP Controllers plus an 15" or 17" Color Touchscreen for remote monitoring and control of multiple weigh feeders that may not have central computer control.
Features/Benefits
Minimized Hardware Design – provides high reliability and economy of space (one 19" card rack can hold up to 17 SBC-2000 CM weigh feeder control modules)
Minimal Controller to Feeder Connection Points – results in fewer connectors with better long-term reliability (a mother board is not used)
Hot Swap Design/Front Accessible Modules – permits easier maintenance by allowing SBC-2000 CM Modules to be replaced without turning power off
Low Power CMOS Logic with Over-Spec Power Supplies – provides cool running electronics for longer product life
Electrically Isolated Serial and Digital I/O – are standard on all controller models
UL, CSA and IEC (CE) Certifications – apply to all controller models
Native Ethernet / IP and Modbus TCP
Specifications
SBC-2000 CM
Power – Logic +5 VDC @ 150 mA and Isolated +5 VDC @ 50 mA
Temperature – Operating -10° to 70°C (14° to 158°F). Storage -20° to 100°C (-4° to 212°F)
Humidity – Maximum 95% relative, non-condensing
Weight – Card rack with 6 SBC-2000 CM Controllers and 2 rack-mounted power supplies is approximately 3.1 Kg. (7 lbs.). Module: 128 gm. (4.5 oz.)
Dimensions – Module: 100 X 160mm (3.9" x 6.3"). Front Plate: 128mm x 20mm (5" x 0.78")
SBC-2000 DSP
Power – Logic +5 VDC @ 550 mA and Isolated +5 VDC @ 100 mA.
Temperature – Operating 0° to 60° C (32° to 140°F). Storage -20° to 70° C (-4° to 158°F)
Humidity – Maximum 95% relative, non-condensing
Weight – Controller (less P.S.) is 794 gm. (28 oz)
Dimensions – Overall 221mm(W) x 169mm(H) x 45mm(D) 8.7"(W) x 6.7"(H) x 1.77"(D)
SBC-2000 DSP/C
Power – Logic +5 VDC @ 990 mA and Isolated +5 VDC @ 14 mA
Temperature – Operating 5° to 60° C (41° to 140°F). Storage -20° to 70° C (-4° to 158°F)
Humidity – Maximum 95% relative, non-condensing
Weight – Controller (less P.S.) is 993 gm. (35 oz)
Dimensions – Overall 173mm(W) x 217mm(H) x 40.6mm(D) 6.81"(W) x 8.54"(H) x 1.6"(D)
SBC-2000 MFC
Power – Logic/Isolated: +5 VDC. Calculate based upon specs above for number and type of SBC-2000 Controllers. Color Touchscreen (CTS): +24 VDC @ 4.5A (nominal), 12A (peak for 10 mS worst case)
Temperature (CTS) – operating 5° to 50° C (41° to 122°F). Storage –20° to 70° C (-4° to 158°F)
Humidity – 5-95% relative, non-condensing
Weight (varies by enclosure and configuration): 17" CTS Assembly is 12.93 Kg. (28.5 lbs.)
Dimensions – overall (varies by enclosure and configuration): 17" CTS is 457mm (W) x 400mm (H) x 152mm (D); 17"(W) X 15.75" (H) x 6" (D)
Options
The following card-rack-mounted options are available for SBC-2000 Controllers:
Redundant Power Supplies – featuring automatic switchover in case of failure
RS-232 to RS-422 Converter Module (1 channel)
Acrison Data Concentrator – provides improved communications performance and allows data highway multi-dropping to 32 controllers
Network Gateway – used with Profibus DP and DeviceNet networks. Allows communication with up to 32 controllers. Uses one of the controller's built-in serial channels
Ethernet Gateway – adds another Ethernet port. Allows communication with up to 32 controllers. Uses one of the controllers' built in serial channels
System I/O Module – provides system level and blender digital inputs and outputs, plus 1 analog input and 1 analog output, as follows:

Inputs:

Remote Run System (starts and stops)
System Permissive Run (enables Run)
Blender Zero Speed Switch (enables)

Outputs:

System General Alarm
System Running
Blender On

Analogs (Total throughput only):

IN: 0-5 VDC
OUT: 0-2.5 VDC

Addressable Keyboard – a graphics KDU (keyboard/display unit) modified to permit communication and control up to 16 SBC-2000 Controllers, one at a time.
Acri-Data™ Supervisory Software – a Microsoft® Windows™ based program that allows a PC or laptop to communicate with SBC-2000 Controllers