Overview
Acrison's Dissolving Systems are used to produce solutions or slurries through efficient mixing of dry materials (chemicals) with water. Acrison Volumetric Feeders are used to meter dry chemicals into either a dissolving tank or a wetting cone (depending on the application and the material being fed), and are supplied as complete assemblies.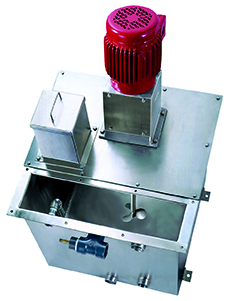 Dissolving Tank with Mixer
Dissolving Tanks
Features/Benefits
Full Cover with Inspection Port/Chemical Feed Inlet – allows visual inspection of solutions or slurries
Various Baffle Configurations – ensure optimum retention time for complete mixing of chemicals (baffle configuration is dependent upon application parameters)
Dust and Vapor Remover – eliminates dust from escaping; ensures safe environment for user
Mechanical Mixer – provides proper mixing energy to create a homogeneous solution
All Steel Construction – provides long-term durability with minimal maintenance requirements
Specifications
All tanks are available in 304 or 316 stainless steel with a minimum of 11 gauge metal thickness
Available in standard sizes of 50, 100, 150 and 200 gallons. Larger sizes are available based on application parameters.
Options
Solenoid valves, level probes, float valves, rotometers and other related equipment
Hydraulic mixing jets constructed of PVC pipe with 304 stainless steel jets
Surface jets to enhance wetting and dust control
Accessories to produce constant strength solutions or slurries
---
Wetting Cones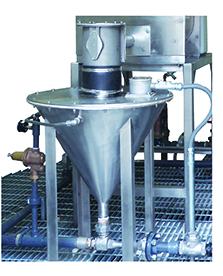 Wetting Cone
Features/Benefits
Full Cover with Overflow Connection – helps contain dust and prevents messy spills should an overflow condition occur.
Swirling Water Vortex – Provides a large amount of surface area for proper wetting of chemical without clumping
PVC Eductor – Ensures complete mixing and transports the solution or slurry to the point of application
Specifications
Wetting cone is constructed of 316 stainless steel; eductor is PVC.
Small model wetting cone is capable of wetting a maximum of 3 cubic feet per hour of chemical. Large model is capable of 10 cubic feet per hour.
Wetting cone is used primarily for powdered activated carbon and potassium permanganate, but may also be used for other select chemicals.
Options
Booster pump for applications with low available water pressure
Solenoid valves, level probes, pressure switches and other related equipment for automatic operation