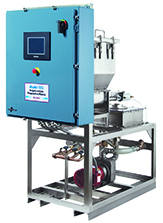 Model 515
Overview
Acrison's advanced Model 515 Polymer Preparation Module cuts water and wastewater treatment costs through the accurate metering, positive dispersion, and complete wetting of dry and liquid polymers. The Model 515 Preparation System automatically and efficiently prepares a homogeneous and precise solution from either dry or liquid polymers at low to moderate capacities.
For wetting dry polymers, the Model 515 System utilizes a very effective cyclone wetting chamber design, incorporating an initial swirling water vortex, enhanced by a series of impinging water jets. Liquid polymers are metered into Acrison's exclusive, highly efficient dispersion injector where they are mixed with water and then discharged into the system's mixing tank.
Features/Benefits
An Acrison Model W105 Dissimilar Speed, Double Concentric Auger Volumetric Feeder – ensures positive, accurate and reliable feed of dry polymer into the wetting chamber
Easy Operation – provides automatic switch-over from dry to liquid or liquid to dry operation without equipment modification
Skid-Mounted System – completely assembled and mounted on a 'skid' type base (mixing tank and aging tank shipped on a separate skid when furnished with system)
All Steel Construction – provides long-term durability with minimal maintenance requirements
Mixing/Aging tanks – can be configured to allow maximum flexibility, especially for installation in areas having space limitations
Specifications
All product contact parts are 304 stainless steel, except for the Cyclone Wetting Chamber, metering auger, and transfer pump which are 316 stainless steel
An Acrison Model W105 Series Dissimilar Speed, Double Concentric Auger Volumetric Feeder for metering dry polymers; powered by a 1/2 horsepower, totally enclosed variable speed AC or DC gearmotor. The feeder is completely dust-tight and sealed to shield the hygroscopic polymer from the atmosphere
Operated by an Allen-Bradley Micrologix PLC with an 8-inch color touch screen operator interface, and includes Ethernet capability as standard
Mixing and aging tanks include ultrasonic level transmitters for non-contact measurement, changeable set-points, and continuous level display.
Options
Various materials of construction
Integral feeder supply hoppers of various capacities
Bag loading hopper
Dust collector/bag dump station
Various AC and DC variable speed motor controllers and control modes
Liquid polymer metering/blending package with Acrison's exclusive Dispersion-Injector
Polymer solution metering pump
Various size and configuration mixing/aging tanks to suit application parameters