Silo System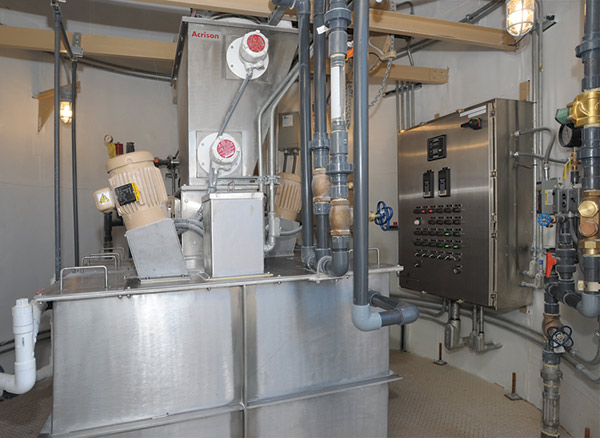 Typical Silo Interior
Acrison's fully integrated silo storage and feeding systems are a product of over 50 years of expertise and experience in dry solids handling and feeding. Using advanced technologies, and superior components, each silo is specifically configured to meet a given customer's individual application requirements.
Features/Benefits
Skirted silos ship as a single unit with all internal components fully installed, piped and wired, and properly braced for damage-free shipping. This is advantageous in that it greatly reduces the onsite work required by the contractor compared to a silo shipped in more than one section and internal components shipped loose.
Rugged, heavy-duty, and reliable Acrison Feeders are used under bulk storage silos.
Chemical removal is provided by vibratory bin activators on an as-needed basis, eliminating the potential for pressurization and/or fluidization typically cause by air injection methods.
Custom PLC-based controls, designed, manufactured, and programmed by Acrison.
Over 50 years of experience handling/metering dry chemicals with dependable service and support.
Specifications
Carbon steel construction, primed and painted per customer's paint specification
Top mounted dust collector
Acrison Feeder(s) – Model W105Z or Model BDF-1.5
Pneumatic fill piping with long radius elbow and center-fill target box
Truck-fill connection includes a limit switch and dust-cap
Manway with pressure relief valve mounted on silo roof
Caged safety ladders with evenly spaced platforms when necessary
Non-Slip Roof Deck Surface
NEMA 4X Truck-Fill Panel
Options
A variety of silo diameters
Skirted or leg-supported silos
Single or dual discharge
Volumetric or 'Weight-Loss' feeders
Dissolving tanks or wetting cones
Pulse-jet, reverse air clean, or mechanical shaker dust collectors
Insulation of silo skirt section
Point-level and/or continuous level sensing
Hazardous area rated equipment sections
And many more….