Model 120 Dry Solids Volumetric Feeder… with Dissimilar Speed, Double Concentric Auger Metering Mechanism and Flow-Inducing Hopper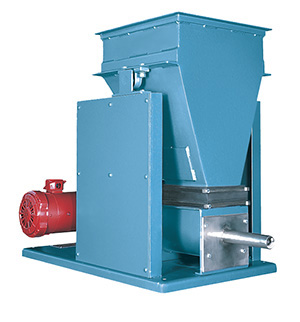 Model 120
Overview
The Model 120 Volumetric Feeder features a flow-inducing 'Recipro-Pivotal' (R-P) Hopper mounted above a feed chamber housing Acrison's unique Dissimilar Speed, Double Concentric Auger Metering Mechanism. The integral oscillating hopper produces a positive downward flow of dry solid ingredients into the feeder's feed chamber where the Dissimilar Speed Double Concentric Auger Metering Mechanism conditions the material to a consistent state, while effectively and reliably filling the metering auger from a full 360º.
Features/Benefits
Unique 'Recipro-Pivotal' (R-P) Hopper and Double Concentric Metering Mechanism combine to produce an extremely versatile and effective dry solids feeder capable of metering a wide variety of ingredients accurately and efficiently
All Steel Construction – provides long-term durability with minimal maintenance requirements
Feed rates from 0.0012 to 200 cubic feet per hour
Specifications
All product contact parts are 304 stainless steel including the feeder's drive shafts and seal components.
All models equipped with a constant speed gearmotor for the R-P Hopper and a variable speed AC or DC gearmotor for the metering auger with either a 30:1 or 50:1 speed range.
Options
Various materials of construction
Sanitary construction to comply with USDA and FDA codes and requirements
Quick-disconnect construction for ease-of-cleanout
Various AC and DC variable speed motor controllers and control modes
Integral (R-P) Hoppers up to 5 cubic feet in capacity