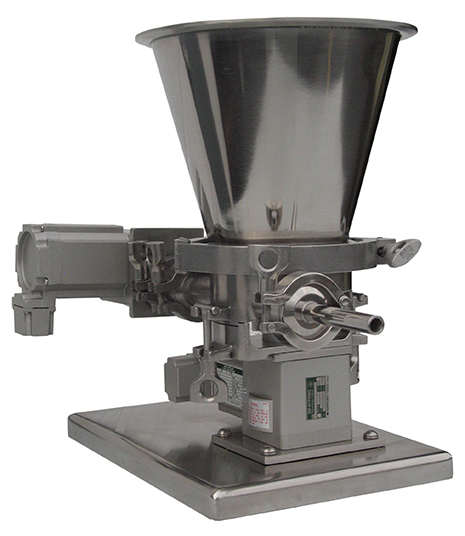 Model 170-MI-5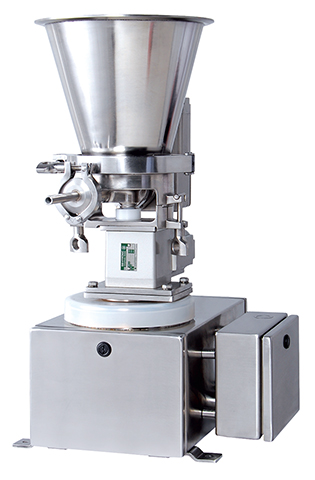 Model 410-170-MI-5
Overview
Model 170-MI-5 Metering Mechanism
Designed to meter a wide assortment of dry solid ingredients at the lowest possible feed rates, the Model 170-MI-5 Volumetric Feeder includes a flat bottom feed chamber that attaches directly to the mating outlet of its supply hopper. In operation, a slowly rotating horizontally mounted conditioning agitator within the feed chamber, promotes flow out of the feeder's supply hopper and into the feed chamber, where the sweeping rotational action of the agitator conditions the material to a consistent state, while simultaneously filling the metering auger for accurate product delivery. The Model 170-MI-5 will self empty when permitted to feed until empty and is specifically designed for rapid product cleanout; it is ideal for applications where frequent product changeover is a requirement.
Features/Benefits
Effective and dependable dry solids metering – capable of very low feed rates.
Fully machined feeder components (excluding the hopper) – enables complete interchangeability from feeder to feeder.
Designed with quick-disconnect features – facilitates feeder disassembly/assembly in minutes without the need for tools.
All steel construction - provides long-term durability with minimal maintenance requirements.
Highly versatile – ideally suited for sanitary, pharmaceutical and similar applications.
Specifications
All product contact parts are constructed of 316 stainless steel. All other feeder hardware is 304 stainless steel (i.e. clamping devices, feeder base, etc.).
Both the conditioning agitator and metering auger are independently driven by industrial-duty gearmotors.
The two motors are TENV, rated inverter-duty, and suitable for wash-down (IP65). Applicable VF controllers provide either a 30:1 or 50:1 speed range.
Compact design: footprint measures 10 x 14 inches with a height of 16 inches, Feeder weighs approximately 50 pounds.
Output feed range from .0012 to 1 cubic feet per hour.
Options
Available in full sanitary construction, including construction suitable for 3A Sanitary and pharmaceutical applications.
Various AC variable speed control modes.