Model 1015 Series Dry Solids Volumetric Feeders…with Dual Auger/Agitator Metering Mechanism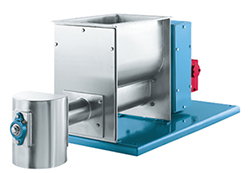 Model 1015Z
Overview
Model 1015Z Metering Mechanism
Acrison's ruggedly built Model 1015 Series of Volumetric Feeders for dry solids feature a dissimilar speed, dual auger/agitator metering mechanism in a specially contoured feed chamber. Rotation of the larger 'conditioning' agitator produces bi-directional agitation of product within the feed chamber to ensure positive downward flow into the metering auger beneath. When permitted to feed until empty, only a minimal amount of residual product will remain in the feeder.
Features/Benefits
Unique Dual Auger/Agitator Metering Mechanism – provides product consistency while simultaneously filling the metering auger for accurately and reliably feeding a wide variety of materials
Common Drive Network – mechanically links the conditioning auger/agitator and metering auger with a single, variable speed AC or DC gearmotor
All Steel Construction – provides long term durability with minimal maintenance requirements
Wide Range of Model Sizes – feed rates from 0.0012 – 3,400 cu.ft./hr.
Specifications
All contact parts are 304 stainless steel including the feeder's drive shafts and seal components
Variable speed AC or DC gearmotor with either a 30:1 or 50:1 speed range
Options
Various materials of construction
Sanitary construction to comply with USDA and FDA codes and requirements
High temperature and pressure construction
Quick-disconnect construction for ease-of-cleanout
Various AC and DC variable speed motor controllers and control modes
Integral supply hoppers up to six cubic feet (Models 1015, 1015X and 1015Z) depending upon product characteristics
Integral supply hoppers available for Models 1015XX and 1015YY (contact Acrison)
Available as the integral metering mechanisms for certain model Acrison 'Weight-Loss' Weigh Feeders