Model 170 Series Dry Solids Volumetric Feeders…with Self-Emptying Metering Mechanism and Two Independently Driven Metering Augers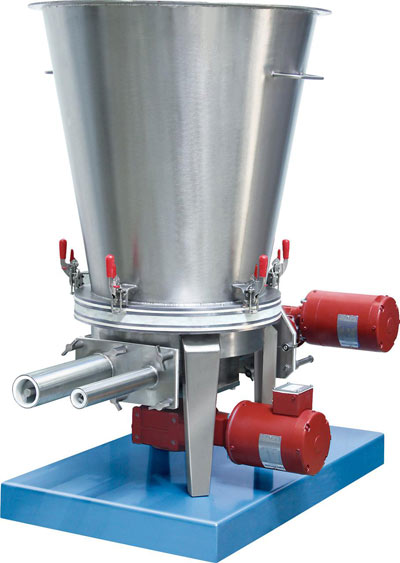 Model 170-1-2
Overview
Model 170-1-2 Metering Mechanism
Acrison's Model 170-1-2 and 170-2-2 Volumetric Feeders for dry solids are designed for both continuous and batching applications incorporating a highly versatile metering mechanism featuring two independently driven metering augers for the accurate and reliable feeding over an exceptionally wide feed range. The design of the Model 170-1-2 and 170-2-2 Volumetric Feeders completely eliminates the undesirable requirement to change the size of the feeder's metering auger whenever a feed range is required that cannot be effectively achieved by a single size auger. By incorporating two separate metering augers sized accordingly, a very wide feed range is possible. Additionally, for batching applications, these feeders are able to provide both high and low feed outputs (rapid and dribble feed) to help facilitate the highest degree of batch accuracy.
These model feeders will 'self-empty' when permitted to operate until empty, and can also be 'emptied rapidly' by means of a discharge port for rapid material emptying when needed—making them ideal for applications where rapid product changeover or bare minimum downtime is critical.
Features/Benefits
Uniquely Configured Auger/Agitator Metering Mechanism – that completely fills the two independent metering augers with product of a consistent state. The feeder has only 3 moving parts, typically a constant speed gearmotor for the slow speed agitator and two variable speed AC or DC gearmotors for the two metering augers.
Circular Wide-Throat, Flat Bottom Feed Chamber with slowly rotating horizontal Agitator – ensures flow of product out of the supply hopper directly into the feed chamber (and metering auger).
Novel Discharge Purge Port – located in the flat bottom of the feed chamber allows the feeder to be 'emptied quickly' when required.
All Steel Construction – provides long-term durability with minimal maintenance requirements.
Total Product Cleanout Design – eliminates 'dead zones' and allows feeder to feed until completely empty.
Range of Model Sizes – for feed rates from 0.28 to 160 cubic feet per hour.
Specifications
All product contact parts are 304 stainless steel including the feeder's drive shafts and seal components.
All models typically equipped with a constant speed gearmotor for the slow speed agitator and a variable speed AC or DC gearmotor for the metering augers with either a 10:1, 20:1, 30:1 or 50:1 speed range.
Options
Sanitary construction to comply with USDA and FDA codes and requirements
Quick disassembly/re-assembly construction (certain models)
Hazardous area electrical construction
Swing-out and tilt-back hoppers to facilitate cleanout (certain models)
Vibrating hopper with unique isolation pad to aid product flow (certain models)
Various AC and DC variable speed motor controllers and control modes
Available as the integral metering mechanism for certain model Acrison 'Weight-loss' Weigh Feeders