Model BDFX 1.5-2 Volumetric Feeder… featuring two independently driven metering augers and dual counter-rotating conditioning augers/agitators that combine to provide both product flow and feed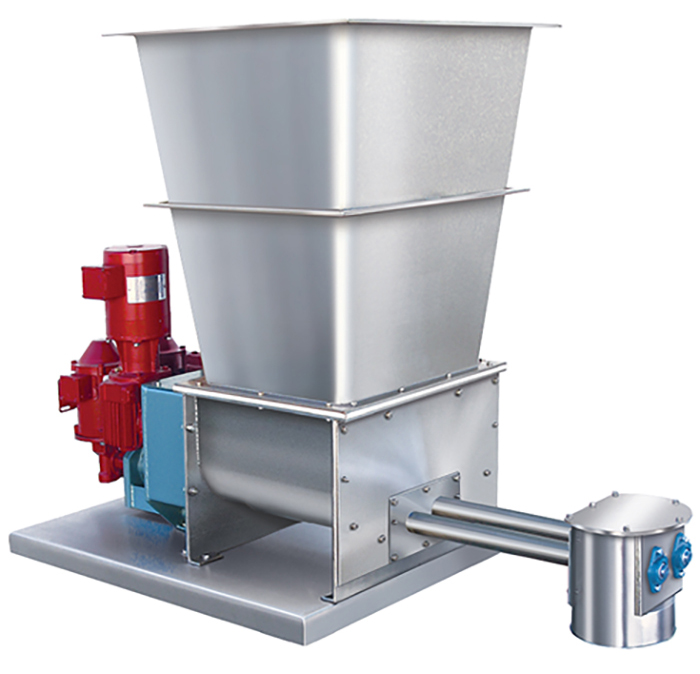 Model BDFX-1.5-2
Overview
Model BDFX-1.5-2 Metering Mechanism
Acrison's Model BDFX-1.5-2 Volumetric Feeder is a version of Acrison's uniquely versatile Model BDF-1.5 Feeder; however, aside from the dual conditioning augers/agitators, which are independently driven, the Model BDFX 1.5-2 also includes two separate, independently driven metering augers. When combined, the two metering augers produce a very wide feed range. Specifically, the Model BDFX-1.5-2 Feeder eliminates the undesirable task of changing the metering auger of a continuous dry solids feeder whenever an uncommonly wide feed range is required. Additionally, the Model BDFX-1.5-2 provides both high (rapid feed) and low (dribble) feed outputs for batching applications.
Features/Benefits
Extremely versatile design - featuring two separate independently driven metering augers which when combined produce a very wide feed range.
Designed for both continuous and batching applications – provides superior materials handling capabilities.
All steel construction – provides long-term durability with minimal maintenance requirements.
Specifications
All product contact surfaces are 304 stainless steel, including all drive shafts and seal components
The two metering augers are independently driven by heavy-duty variable speed AC or DC gearmotors having either a 10:1, 20:1, 30:1 or 50:1 speed range
The metering augers are 316 stainless steel.
The agitators are flange-attached to their respective drive shafts. The metering augers utilize a threaded attachment to their drive shafts.
The two agitators are independently driven by heavy-duty constant speed gearmotors powered by AC motors.
Options
Various materials of construction.
Partial quick-disconnect construction for ease of cleanout.
High Temperature and pressure construction.
Various variable speed controllers, speed ranges and control modes.
Available as the integral metering mechanism for certain model Acrison Weight-Loss Weigh Feeders.