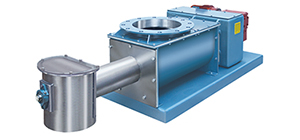 Acrison, Inc., an innovative global leader in dry solids metering and handling technologies for over 50 years, offers their Model 140 Series Feeders with a uniquely designed Dissimilar Speed, Double Concentric Auger Metering Mechanism.
Consisting of a large 'Conditioning Auger' (Intromitter) concentrically mounted around a smaller 'Metering Auger', independently driven at dissimilar speeds in a fixed proportion to each other by a single variable speed gear motor, the Double Concentric Auger Mechanism provides highly accurate, dependable and versatile metering of a wide range of dry solid materials.
Unlike other volumetric feeders where a single auger is typically located at the very bottom of a converging 'V' shaped trough—across which various types of dry solid materials easily and often bridge despite vibration or agitation—rotation of the metering mechanism's slower speed Intromitter produces gentle unidirectional movement of material within the feed chamber. This action effectively conditions the material to a uniform state while simultaneously filling the metering auger from a full 360 degrees for accurate and highly dependable product delivery.
Available in three different models with an overall feed range of up to 3400 cu. ft./hour, Model 140 Series Feeders feature all-steel, heavy-duty construction. Maintenance requirements are minimal, and long-term operating costs are the lowest in the industry. Optional features include sanitary construction to meet USDA and FDA codes, and construction to satisfy high temperature and pressure applications. Model 140 Series Feeders are also used as the metering mechanism for certain Model Acrison 'Weight-Loss' Weigh Feeders.
For more information, call 201-440-8300; Fax: 201-440-4939, E-mail: informail@acrison.com.