Acrison, Inc., an innovative leader in dry chemical feeding and dissolving technologies for over 50 years, has announced the availability of their new High-Capacity Wetting Cone for high-feed rate applications.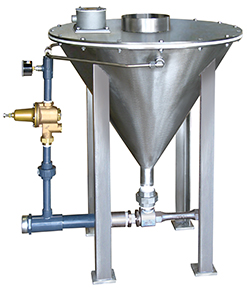 In applications not having high backpressures, wetting cones are a viable way to wet chemicals that either do not dissolve in water, or do not require retention time to dissolve completely. Acrison's high-capacity wetting cone is designed to wet such chemicals at rates up to, and sometimes exceeding, 50 cubic feet per hour. In operation, complete water coverage is provided to the entire inside surface area of the wetting cone, which creates a cyclone vortex for effective wetting of the chemical. An eductor is used at the outlet to further mix the resulting solution and transport it to the point of application. A high-level probe is mounted on the cover of the wetting cone to shut down the system should an alarm condition occur.
For more information, call 201-440-8300; Fax: 201-440-4939, E-mail: informail@acrison.com.