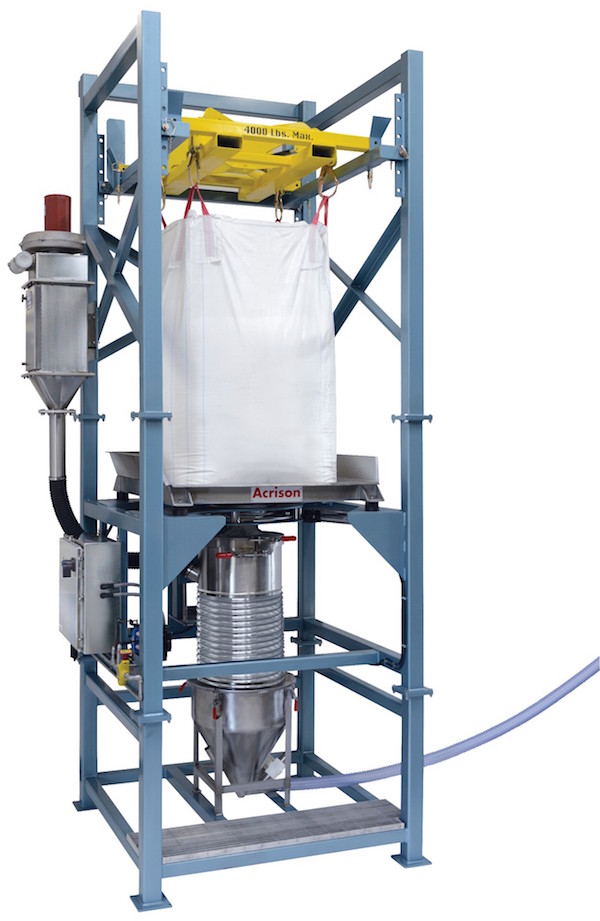 Acrison, Inc., an innovative global leader in dry solids metering and handling technologies for over 50 years, has announced availability of their Model 820 Bulk Bag Unloader.
Designed to reliably discharge contents of bulk bags using "controlled vibration", the Model 820 features Acrison's patented Model 82-SCM Bag Spout Clamping Mechanism for unrestricted access to the bag's discharge spout and attachment to process interface transition equipment in an entirely clean and dust tight manner. The clamping mechanism keeps the spout "taut" during the bag emptying process, and is quickly and easily attached via a strong, simple, manually operated "clam shell" clamp.
An optional patented Model 82-SVM Bag Spout Closure Valve that is pneumatically operated closes off the bag's discharge spout, allowing it to be retied when removal of a partially empty bag is a requirement.
To ensure a completely dust-free operation, the Model 820 is also available with a Dust Collection System that also assists in deflating an empty bag, and Bag Lifting Racks that automatically maintain upward lift on the bag and bag liner, if applicable, to facilitate product discharge.
For more information, call 201-440-8300; Fax: 201-440-4939, E-mail: informail@acrison.com.